POS Foundation, a leading Civil Society Organization in Ghana has donated some PPEs, medication and food items  to the Akuse Prison in the Eastern Region of Ghana. This initiative was piloted  in collaboration of Covid- 19 Grassroot Justice Fund to help combat the spread of COVID 19 in prisons across the country.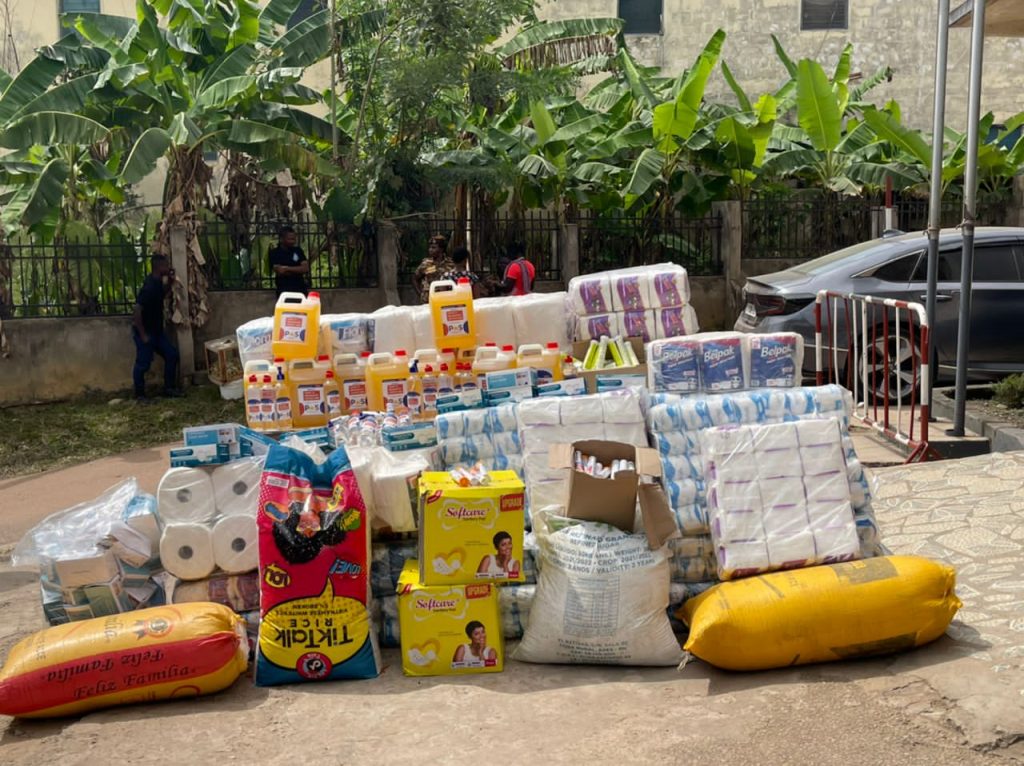 The team then went on to donate the PPEs to the Akuse prisons. The donations were received by DSP Issifu Abudallah on behalf of the OIC, officers and the inmates. The PPE included tissue papers, veronica buckets, hand sanitizers, nose masks, medicines (vitamin C and zinc tablets) as well as food stuffs and water.
Mr. Jonathan Osei Owusu during the presentation of the items stressed on the point that the donation was made possible through a collaboration between the Covid-19 Grassroots Justice Fund and the POS Foundation. He emphasized that it was imperative to provide the Prison Service with all the support they need to combat the covid-19 pandemic considering the overcrowded nature of prison installments in Ghana.  He also lauded the Ghana Prisons Service for the good work done in combatting the virus such that no single covid-19 case was reported in any of Ghana's traditional prisons since the start of the pandemic.
The officer receiving the donations on behalf of the OIC, DSP Abudallah, immensely thanked the Covid-19 Grassroot Justice Fund and the POS Foundation for prioritizing the needs of prison officers and inmates. He indicated that the Foundation has continuously made great efforts to assist the Akuse Prisons whenever the need arose and the donation was just one of the many ways this assistance was offered.
During the orientation after the donation, A health personnel from the Akuse hospital was invited to brief the participants on the coronavirus pandemic, the new variant and the measures to take to protect oneself. Personnel of the Prisons Service and inmates then took turns to outline measures taken when the covid -19 pandemic first broke out in Ghana, challenges, and the way forward.
The POS Foundation is a human rights civil society organization, whose desire is to aid prisoners with Personal Protectives Equipments(PPEs) in the quest to protect their health state from Covid-19 across Ghana.